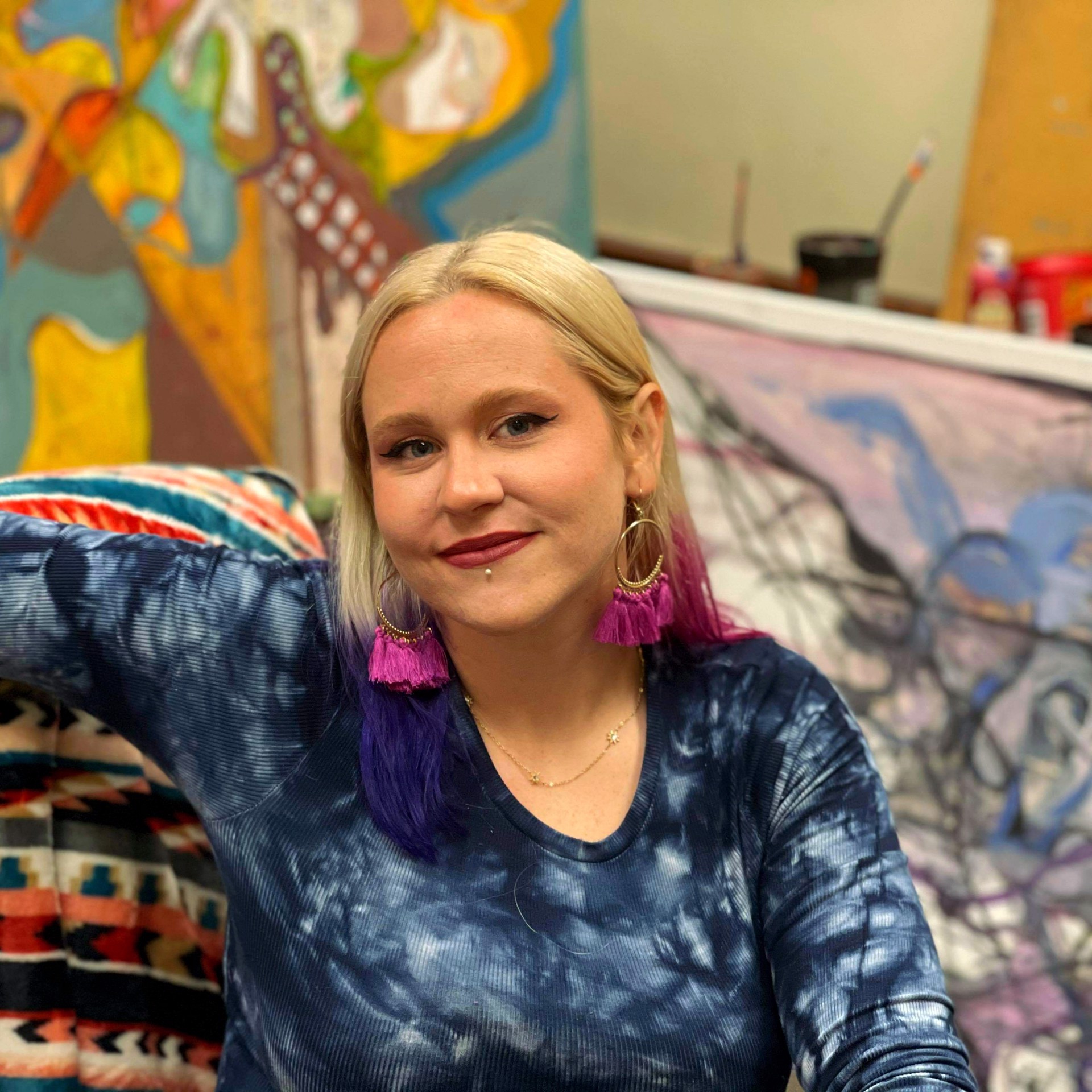 Originally from Chunky, MS, abstract artist, Magen Pierce moved to Hattiesburg at the age of twenty to study art. She received a Bachelor of Fine Arts in Painting and Drawing from the University of Southern Mississippi in 2016. After graduating, she was awarded the following two years with an opportunity to have an Artist-in-Residence with the Hattiesburg Arts Council's Open Studios. During the residencies, she created work for, promoted, and hung four exhibitions. The first year she had two solo shows. The second year she had two joint exhibitions that she collaborated with a friend and fellow artist in residence. The experience she gained over these two years helped her to further her discovery about what she wanted to say with her work and how she wanted to say it. Presently, Magen is balancing her time between managing at the Keg and Barrel, a popular bar and restaurant in Hattiesburg, and furthering her career as an artist. She works out of her studio space in the Hattiesburg Community Arts Center, where she has been able to both create and sell her work at the monthly art sales they hold. She continues to discover and grow as an artist. She approaches each piece with a set boundary but also with a freedom to just enjoy the experience of creating.
For Magen, art is a combination of imagination and allowing whatever exists inside of herself to emerge. She finds herself discovering images on a page more than the world around her. She does not aim to grab her viewers' attention through depicting something they think is real, rather she seeks to connect with what they feel is real. Her whole life, she used art to make sense of the emotions the world around her evokes. In a world that can feel disconnected, she wants to be part of something that reminds us we are alive, and we can feel. She finds art to be the connection that weaves us all together. She hopes that her passion can bring someone joy and remind them of the peace that comes with allowing yourself to let go. There are many themes that Magen presents in her work, but the major theme is her sense of balance between geometric and organic shapes that weave in and out of one another to create a playground for the viewers' eye. She feels it represents that we are all seeking balance in ourselves and the world around us.
In her time in Hattiesburg, she has been able to find a supportive art community full of a lot of inspiring people that have pushed her to continue to do what she loves. She has several works hanging in a few of the local businesses in town such as South Mouth Deli, The Keg and Barrel, and Local Style Hair Salon and Art Gallery. You can also find her work in the Pacesetter Gallery located in Flowood, MS. She additionally has had her work accepted in the HAC Emerging Artist show for 6 years and work in the Meridian Museum of Art's Annual Bi-State art competition for the past two years. She continues to approach her art as an outlet and a way to connect to others around her. Though art is very much her passion she also enjoys using running, yoga, and cooking to find time for herself and to clear her mind.
Read More